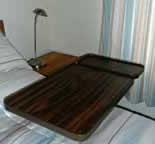 The double bedroom has a wide, sliding door and plenty of room for a wheelchair to manoeuvre around the king size oak framed bed. If you require a hoist, please mention this when booking as this can be supplied on request for an extra charge.
There is an adjustable bed tray/table available that can be moved from one room to another for your convenience e.g. reading or breakfast in bed?
There is a double wardrobe with a full length mirrored door and on the inside the clothes rail is at a lower height than normal to accommodate a wheelchair user. The wardrobe has two pull out wire drawers for storage and a shelf above the hanging rail.
There are two halogen reading lights on the oak bedside tables at either side of the bed. The lights are touch controlled and dimmable. The bedside tables have a drawer and two shelves.

The light switch on the wall as you enter is at a low height and there is a
pull cord to switch off the central light from bed. There is a rounded shelf in the corner where the HDTV sits. It has 88 Freeview TV and Radio channels, a remote control and teletext.There is also a tall,narrow chest of drawers for storage near the window.
The floor is carpeted with a sand coloured carpet that is not too thick to hinder wheelchairs and there is a portable heater in the bedroom for colder nights.