The twin bedroom has an electric care bed with cot sides with a foam mattress that rises and reclines and an oak single bed. Once again the bedroom has a wide, sliding door and there is room for a wheelchair and a hoist to access both of the beds.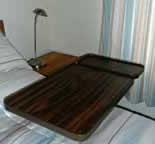 All the bedding is anti-allergy as are all the pillows.
If you require a hoist for this room, please mention this when you are booking as this can be supplied on request for an extra charge. The adjustable bed tray/table available can be moved into this room for your convenience if required e.g. reading or breakfast in bed.
The wardrobe has one mirrored door and inside the clothes rail is at a lower height than normal to accommodate a wheelchair user. The wardrobe also has two pull out wire drawers for storage and a shelf above the hanging rail.
There are two halogen reading lights on the bedside table situated between the beds.

The bedside table has four drawers for storage. The light switch is at a low height and there is a pull cord to switch off the central light from bed.
At the foot of the care bed there is a tall chest of drawers for storage. The Radio/CD player sits here.
The floor is carpeted with a sand coloured carpet that is not too thick to hinder wheelchairs and there is a portable heater in the bedroom for colder nights.